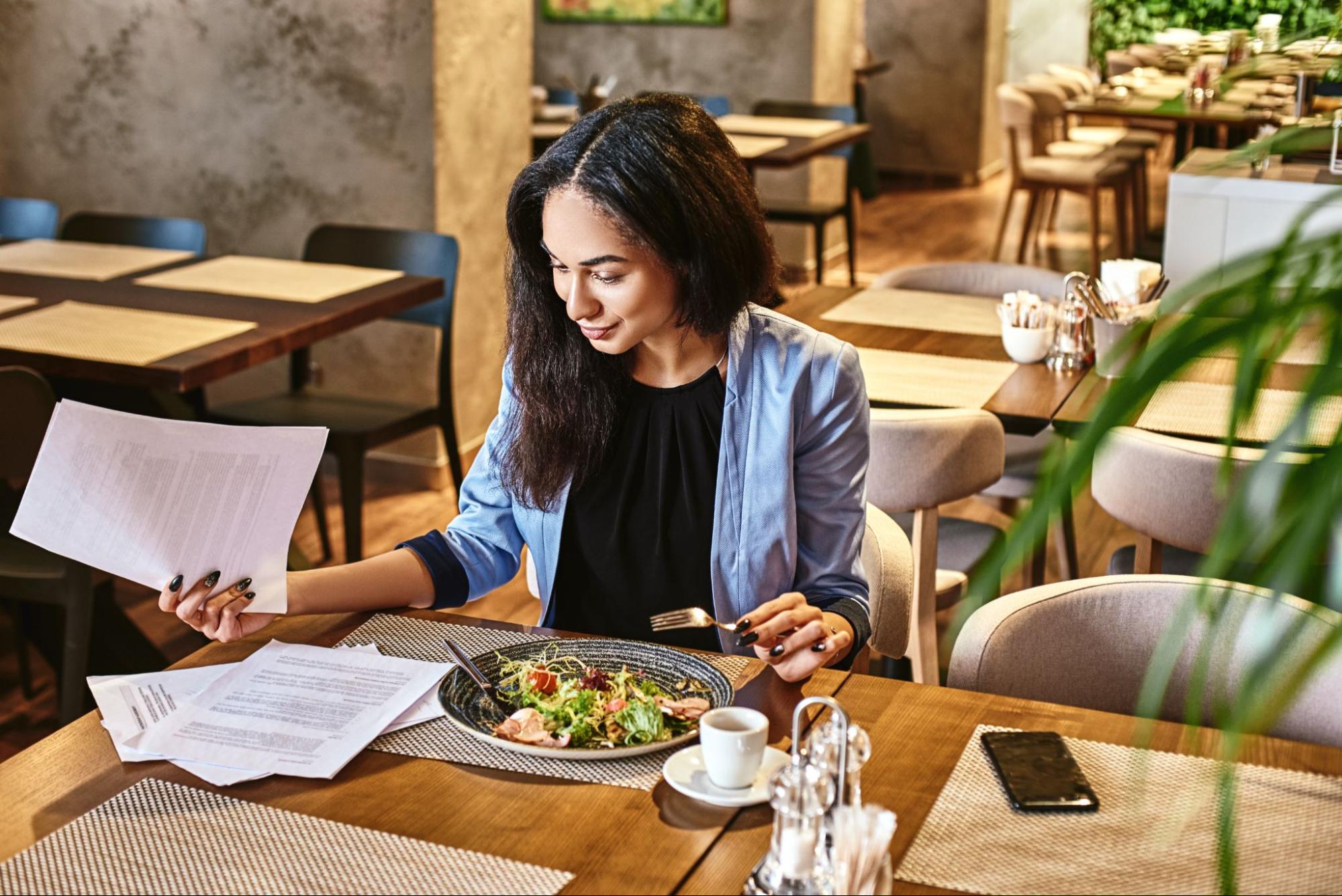 The average marketing budget for a restaurant is in the range of 3-6% of a restaurant's total revenue. Just as restaurants are finally settling back into what is considered the new normal, another reckoning seems upon us: An impending economic recession.
A recession can bring lower revenues, which means less money to spend on marketing — so every penny spent will be crucial.
Restaurants will need to adjust their restaurant marketing budget plan, realigning what they spend their money on and where they spend their money, as business owners will again be under pressure to maximize their reach, impact, and conversion rates for every dollar spent.
Why Do You Need to Plan Your Marketing for the Upcoming Recession?
Forbes recently explained that while the United States isn't technically in a recession, the fact remains this: After two straight quarters of decline for the national gross domestic product (GDP) to start the year, a minuscule 2.6% growth in U.S. GDP for Q3 2022 is not exactly comforting.
In other words: Things will likely get worse before they get better, so you need to dial in your marketing to address this crucial question:
How to attract more customers for your restaurant?
Without a proper marketing strategy, you run the risk of having your communications:
Reaching the wrong audience (or no audience at all)

Deterring customers from trying your restaurant

Going way over budget
Tips to Get More Customers
What is the most important marketing tool of any restaurant? The answer is still having a fantastic product.
That said, the best restaurant marketing campaigns for today are much different from that of recent years (or even months). Here are some restaurant marketing ideas and trends to help focus your marketing plan and not break the bank.
Do A Deep Dive
If you're going to maximize your budget, the first thing you need to do is take a look inwards at your current strategy and identify:
Who are you targeting now?

Who do you want to target?

Are you leveraging the right marketing channels?
Embrace the Digital World
With more potential customers working remotely, out-of-home advertising is a less efficient form of advertising, so businesses should be focused on more digital media, including cost-effective marketing channels like social media and email marketing — where the biggest cost is time and effort.
Social Media
The majority of potential customers have some social media presence, making the potential impact of a well-done social media account much higher than a billboard or poster.
An active social media account (on platforms such as Instagram, Twitter, Facebook, and TikTok) allows you to consistently provide fresh content and leverage dynamic videos. ot only does this keep you relevant, but it allows you to create an engaged community of customers.

An active social media channel lets you save marketing dollars by reducing your spending on higher-priced options such as hiring social media influencers or shelling out for paid social media posts.Consistency is key.
Read: 4 Ways Restaurants can Boost Engagement on Instagram
Email Marketing
Email marketing has customer acquisition value, but it really shines when engaging with repeat customers, offering a way to connect via:
Personalized messages

Exclusive offers

Loyalty rewards.
You can identify who truly wants to be connected with your business — and then go to work on solidifying that foundation of customers.
Optimize your Business Listing and Website for More Search Engine Exposure
Most people live on social media… but even more potential customers use Google, where there are about 8.5 billion queries made daily.
Not all of those searches are food-related, but consider these stats from HubSpot:
Nearly half of all Google searches are looking for local information.

"Near me" style searches grew by 900% from 2020-2022

About 92% of searchers pick a business on the first page of a search result.
There is a lot of value in having your business' website at the top of a Google search result — and getting there doesn't require a ton of money.
Mastering SEO is a full-time job itself, but there are some basic tips that can give you website an immediate boost:
Create a

Google My Business

account (with all the required information filled out)

Incorporate new videos and photos on every page of your website

Featuring quality links (such as affiliated businesses, local business development groups, and social media accounts) improves your E.A.T. – expertise, authority, and trustworthiness –  value within Google.This can help your website rank higher in search

Have your restaurant's name, address, and phone number front and center on the website, and use SEO-friendly headers to callout the key parts of your page (e.g. menu, contact info, delivery, hours)

Add a blog to your website, updated regularly with fresh, unique, and relevant information
There are SEO upgrades, such as paid ads or pay-per-click (PPC) advertising to entrench you near the top of all local Google searches, but having your website itself be SEO-friendly will reap plenty of rewards without blowing the budget. 
Additional Resources:
Maximizing Your Marketing ROI
Even with an optimized marketing plan, you still need to get the best ROI from those marketing conversions — so let's talk tech.
Remove Barriers to Online Ordering
The most significant development of recent years has been the massive shift toward online ordering. It's now critical your business is adequately set up to receive, process, and execute online delivery and take-out orders.
This starts with having the appropriate technology for handling your volume of digital orders. Is your online business through third-party apps? Your website? A combination of both?
This needs to be addressed, so that:
You provide a seamless customer ordering experience

Traffic volume doesn't cause your website to crash at peak hours

You can access customer ordering data, which is useful in creating future marketing campaigns and learning more about your daily operations
Utilize a Comprehensive Ordering Platform
Not everyone fully understands this side of the business — or even wants to spend a ton of time managing this part of the operation, preferring to focus on simply delivering a great product.
In those cases, there are business solutions, such as Smooth Commerce, that can tailor your restaurant with the proper tech and implement the right digital ordering platform, manage efficient marketing/loyalty programs, provide data-driven business insights, and more.
Looking towards a qualified solutions expert to help maximize your marketing ROI not only helps your restaurant maximize its branding efficiency, but also allows you to do what you best — create the best possible experience for the customers you are attracting.
The restaurant industry is about to embark on yet another challenging financial stretch and it's paramount that you, as a business owner, wholly re-evaluate your marketing plan to maximize efficiency, reach, and (most importantly) your budget.
Review your current plan, identifying your target audience and any current gaps in your marketing strategy. 

Adjust your plan, focusing on digital mediums such as social media, email marketing, and SEO best practices, which can help your business grow but keep your budget low.

Assess your restaurant's online ordering tech — Does it meet your needs? Is it doing everything needed to help your business grow? — and consider third-party solutions to keep organized, and efficient, freeing up more of your time to ensure product quality.
About Smooth Commerce
Smooth Commerce is a digital ordering, customer marketing and loyalty platform for restaurants. We take ordering to the next level with personalized customer engagement, making your digital storefront the cornerstone of your brand. By solving more restaurant pain points in one digital platform than anyone else, we put you back in control of the customer's experience with your brand to promote profitable sales growth.
If you would like to learn more or talk to a representative from Smooth Commerce about how our platform can help you meet your loyalty goals, contact us at learnmore@smooth.tech.