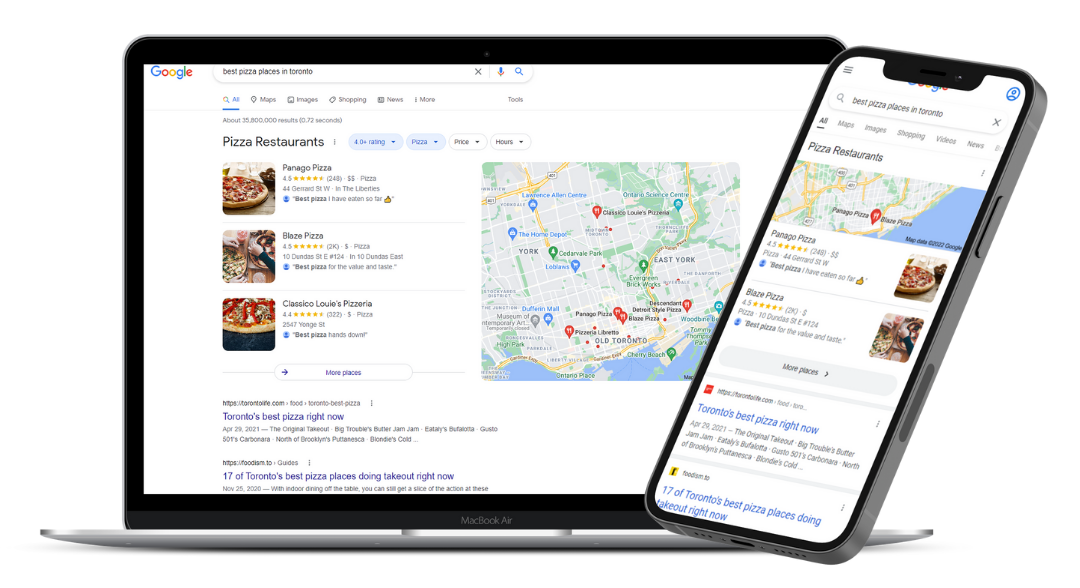 Restaurant SEO
In this digital age, it has become important for restaurants to have an active online presence to build a following and drive sustainable growth. 
When it comes to thriving in the online world, there are many channels to consider, but one of the most cost-effective methods is to focus on ways to improve your search rankings and get customers to your digital door front organically. This is commonly referred to as search engine optimization (SEO). 
In this post we will look at ways to improve your restaurant's SEO to gain more visibility and traction online.
Keyword Strategy
The most fundamental aspect of elevating your search presence is to define an effective keyword strategy. Simply, before you begin executing your SEO strategy, you should thoughtfully consider  what terms you are trying to rank for based on the customers you are trying to attract. 
A good place to begin is to brainstorm the audiences you want to reach and consider what  terms are they searching on the web to find places like yours. 
For instance, a Neapolitan pizza place in Toronto would want to focus on terms like "neapolitan pizza toronto" instead of "pizza place toronto". 
Getting specific with the audience you want to target makes your SEO campaign effective and laser focused. Once you have this ironed out, the next step is to write your website copy to include these keywords. 
Optimize Google My Business Listing
Google my Business listings are a great way to get some local search exposure. Google My Business listings are a local listing which pops up in map search results as you can see in the image below, displaying info about a local business like location, photos, reviews, etc.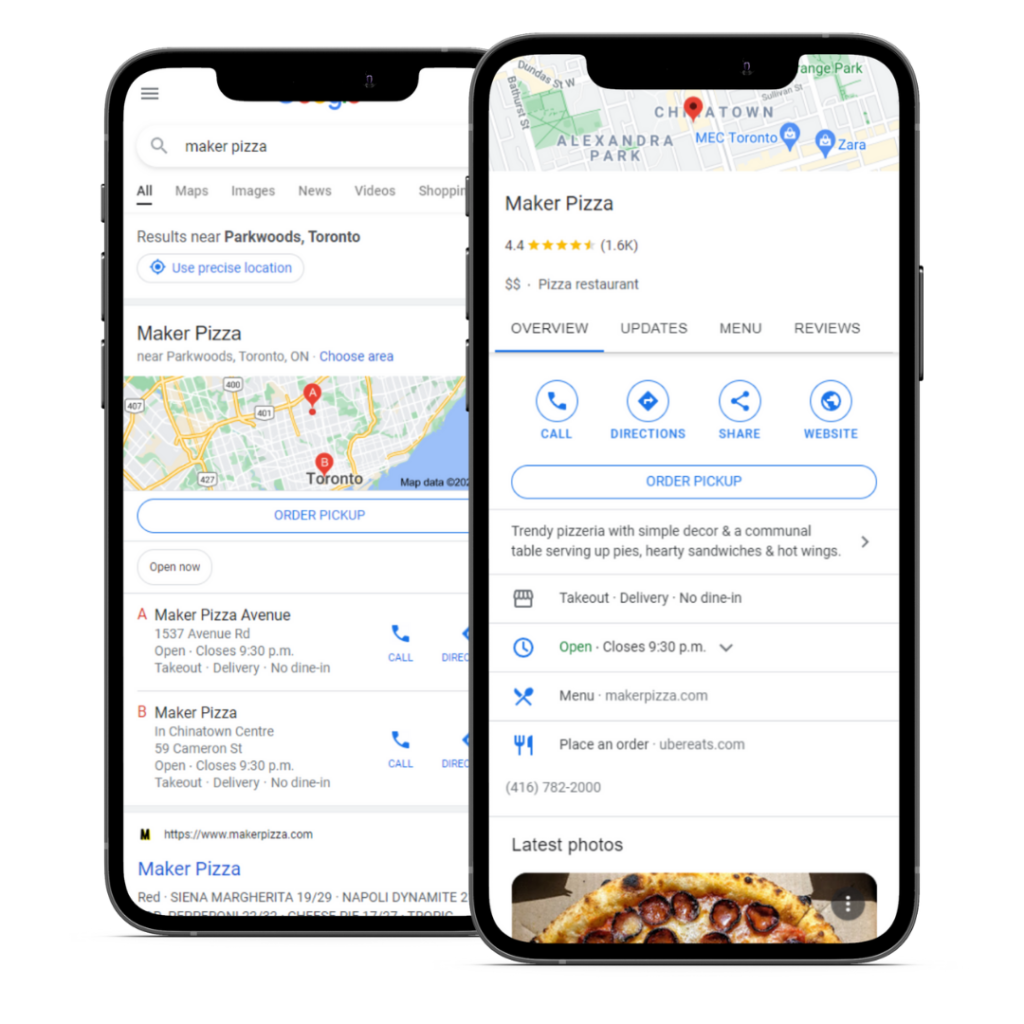 Google My Business listings can help improve local SEO. Ensure your listing has photos from your locations, that your hours are listed accurately, and info such as address, website, phone number are listed for the convenience of users who might be searching for you. 
Tip: You can even add a quick menu on your Google My Business listings to showcase your offerings.
Another way to promote SEO is to list your restaurant in local business directories like Yelp, Tripadvisor, Yellow Pages etc. 
This helps Google and other search engines to pick up cues about a local business  and understand the services they offer. Search engines are then better able to match and help users looking for that service in an area,  bringing in more qualified local users to your storefront or website. 
Organic Social Media Presence
A strong social media presence is a great way to complement a strong search presence. Be it through user behavior and people engaging more with your content and website, or Google picking up on cues from your social media accounts. 
In a nutshell, having an engaging social presence can help you not only boost your rankings, but also engage with your customers and build long lasting relationships. 
Post relevant content for your audience on a regular basis, engage with your customers, and reply to people reaching out to you promptly. Using relevant industry hashtags is another great way to build up engagement on social media. If you are looking for a place to start, here are 4 tips for unlocking success on TikTok.
Reviews and Testimonials
With search engines focusing more on user experience, reviews and testimonials are an essential part of an effective SEO strategy in 2022. 
You will often see listings with the highest ratings appear at the top of the results because Google wants to deliver high quality results. And what better way to qualify quality than to go by the word of people who order from your restaurant?
Encouraging more people to leave a review will do wonders for your search rankings. Also reviews will also attract more people while they're in the research phase to order from your restaurant. 
Technical SEO
Technical SEO includes optimizing your website for speed, proper URL structuring, and setting up your sitemaps the right way. 
A fast and well structured website is known to boost your search rankings. It also improves user experience, which is one of the ranking factors Google and other search engines take into account. 
Ensure your title tags, meta descriptions, heading and page copy align with your SEO goals and are properly optimized. You may wish to find an experienced SEO expert to help you with this work. 
Conclusion
In this post we talked about some tips that can help you improve your search rankings.  and provide a better user experience to your customers. 
From positive reviews, a simple and easy to navigate website, keywords that correctly define your business, to having an engaging social media presence, all of these factors help you deliver a better experience, and ultimately help you in improving your search rankings. 
About Smooth Commerce
Smooth Commerce is an all-in-one digital commerce and customer marketing platform for restaurants that combines online and mobile ordering, delivery, loyalty, and powerful marketing tools to help you grow your business, while giving you access to your customer data to help grow your restaurant. 
If you would like to learn more or talk to a representative from Smooth Commerce about how our platform can help you meet your loyalty goals, contact us at learnmore@smooth.tech.