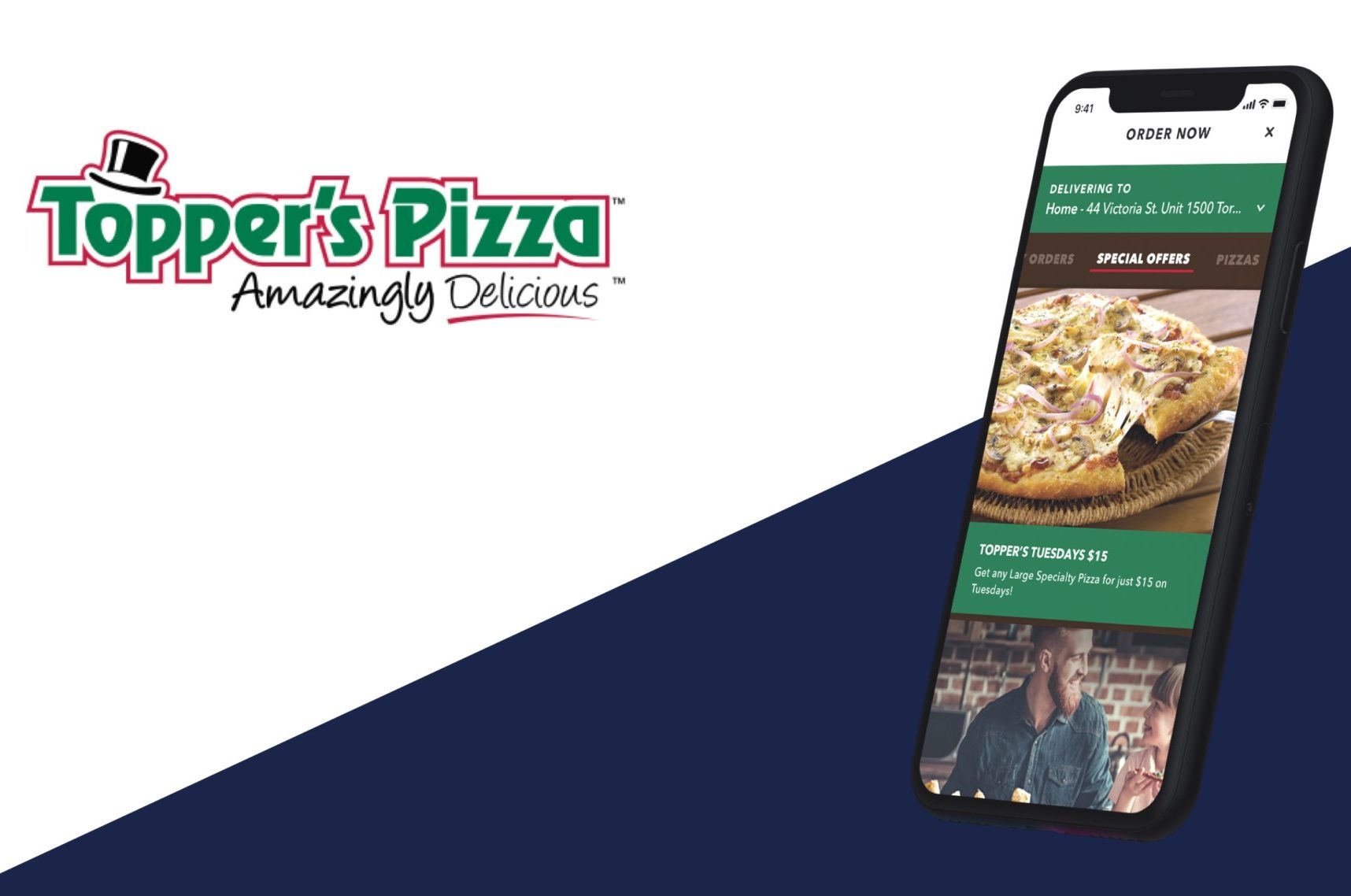 Company Bio
Topper's Pizza is a Canadian pizza franchise. In 1982, Ron Toppazzini established the chain as Mr. Topper's Pizza. Today, Topper's has over 35 franchises in Ontario. They pride themselves on their fresh ingredients and Authentic ItalianBread CrustTM – a generational family secret.
Challenge
When Topper's Pizza wanted to celebrate National Pizza Day and engage their customers, they knew they had all the ingredients for success with the functionality of their custom-built app from Smooth Commerce. Topper's wanted to provide a financially compelling promotion to their entire customer base for the industry-related event. Their goal was to see if an offer with a call to action would get the attention of their audience, drive traffic into their locations and result in increased revenue.
"The National Pizza Day offer was a huge success. Our goal was to drive app usage and to reward our most engaged customers with an aggressive and unforgettable deal. The results we received from this offer – and the push notification that was sent – completely surpassed our expectations. We appreciate the above and beyond effort that the team at Smooth Commerce put into helping us make this deal one of our most successful to date," said Nicole Brenne, Digital Marketing Specialist at Topper's Pizza.
Approach
Topper's wanted to fully utilize their app's push notification capabilities to engage their customers during National Pizza Day. They wanted to provide an exclusive offer to app users through a push notification and see how this would influence their in-app sales. They also promoted the in-app offer through email and social media. Topper's notified customers about their $5 two topping medium pizza promotion that was unlimited in use and for pickup only.
Results
$50,000 in sales through the app in one day
5x the average daily sale rate
9x the average daily registration rate
1,300 registrations in one day
Takeaway
Frequent and targeted promotions can drive increased revenue as easily as it can impact your margins. The Smooth Commerce platform has the ability to continuously market to customers through email, push notifications, in-app messages and SMS for highly personalized promotions. This allows marketing initiatives to be more effective while maintaining desired and consistent profit margins. Our platform also has the ability for your team to segment customers based on their preferences and target specific promotions to these user groups. This kind of automation will free up your team to focus on other matters, and make sure your active user count and in-app revenue continue to grow.
For more information on our platform packages and features, contact us.