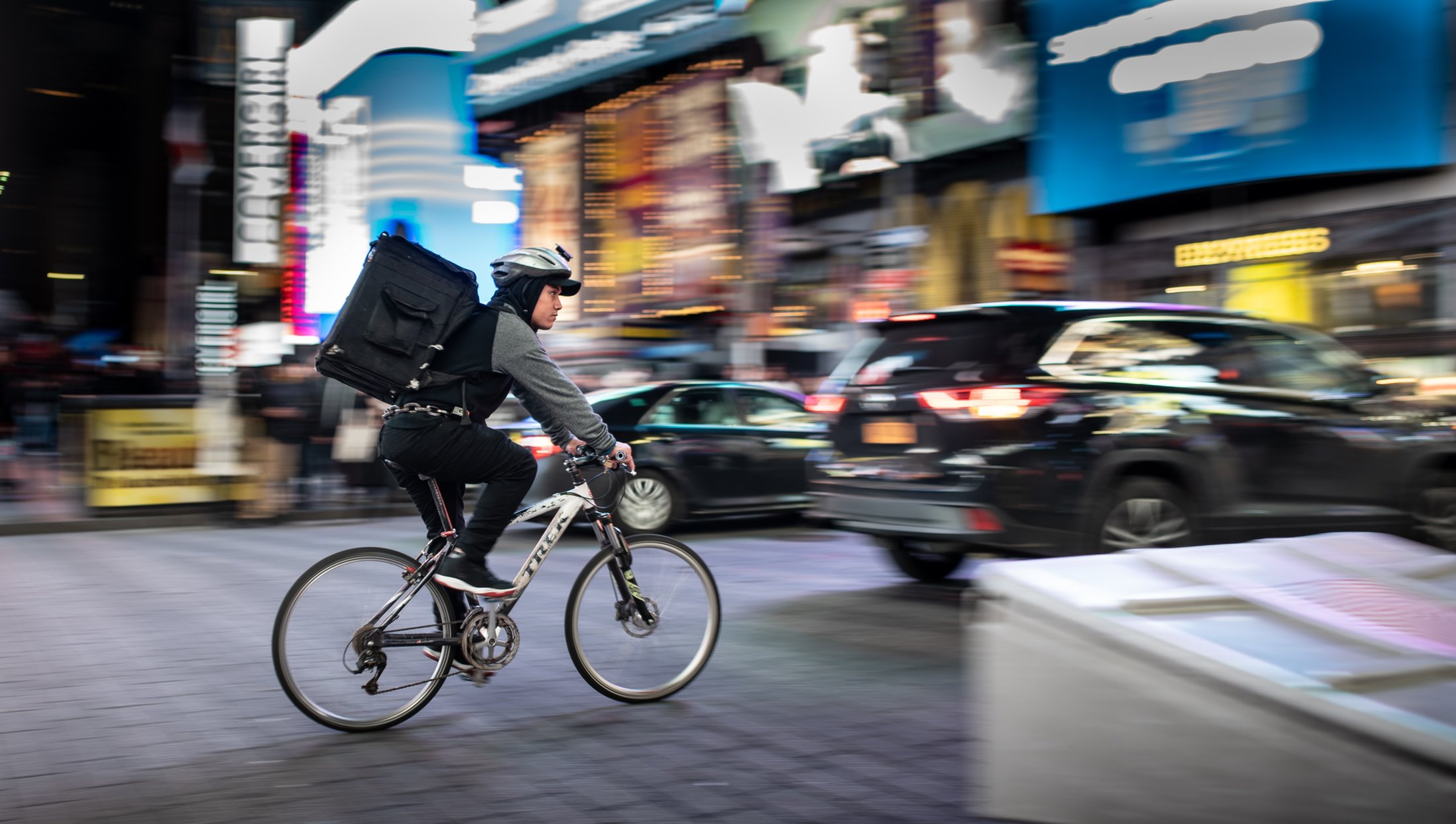 Soon after the World Health Organization declared COVID-19 a pandemic, many restaurants across the globe closed to help stop the spread of COVID-19 or government restrictions forced them to operate through takeout and delivery only. People were trying to process the new health and safety guidelines put in place, and at the same time, restaurants needed to quickly shift their operations to comply. Some restaurants that did not previously offer takeout or delivery had to rapidly adapt to stay in business. 
Restaurants have been primarily operating through takeout and delivery for months, but now some local governments are beginning to open up limited seated service, including patio dining. Although restaurants now have more options for how they can serve their customers, the effect of the pandemic and evolving customer habits suggests the increased importance of delivery and takeout will be lasting. 
Online ordering 
It's important to meet your customers where they are: online. With over 400 million people in North America using the internet, implementing an online ordering solution for your restaurant is key. 
Online ordering, particularly a solution that is branded specifically to your restaurant, is crucial to gain immediate recognition and trust with your customers. It also makes order intake easier as everything is streamlined and frees up your staff from taking orders over the phone.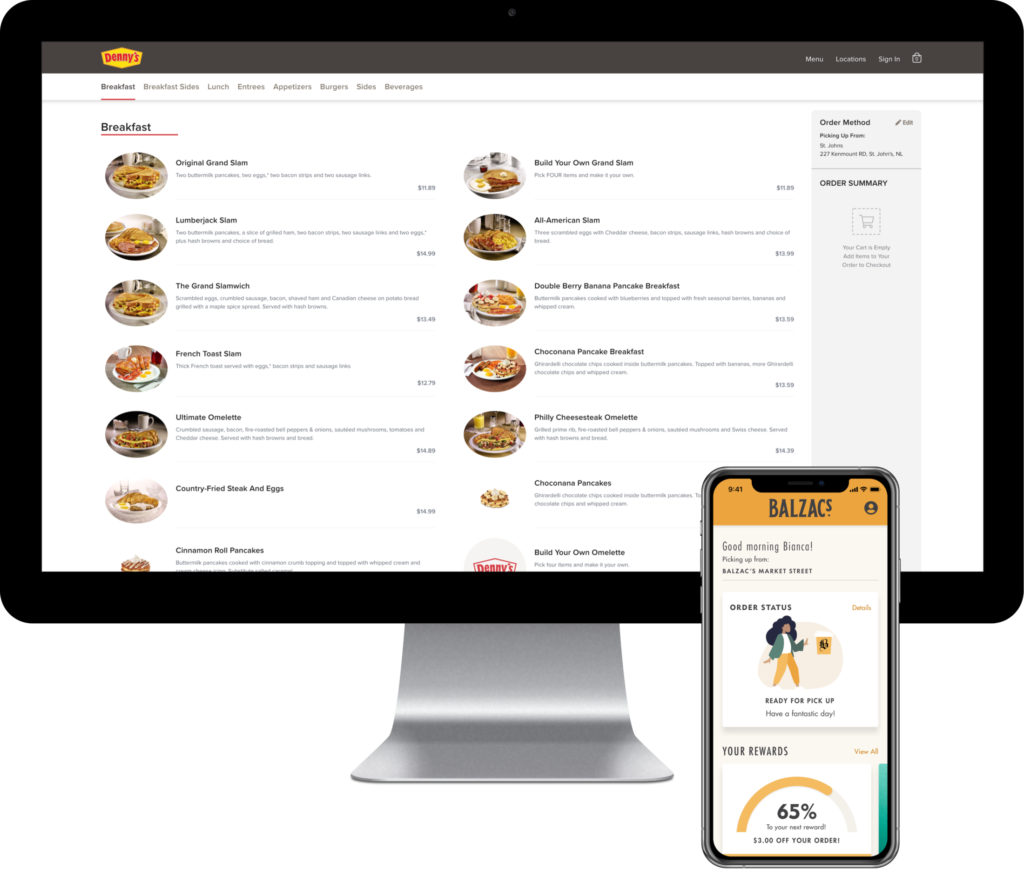 Web ordering for Denny's Canada and the mobile app for Balzac's Coffee Roasters are both powered by Smooth Commerce
Contactless everything
Minimizing person to person contact is a crucial part of COVID-19 safety measures. Many restaurants have incorporated contactless delivery, payments and loyalty into their operations. For example, some delivery platforms and services implemented contactless delivery as a way to mitigate this concern. 
One of the clients on our platform, Topper's Pizza, incorporated this feature into their mobile app at the beginning of the pandemic to ensure delivery drivers and customers kept their distance from each other. On their mobile app, customers automatically receive contactless delivery if they pay through the app and they'll have their order left where specified in the special instructions, all while earning loyalty points.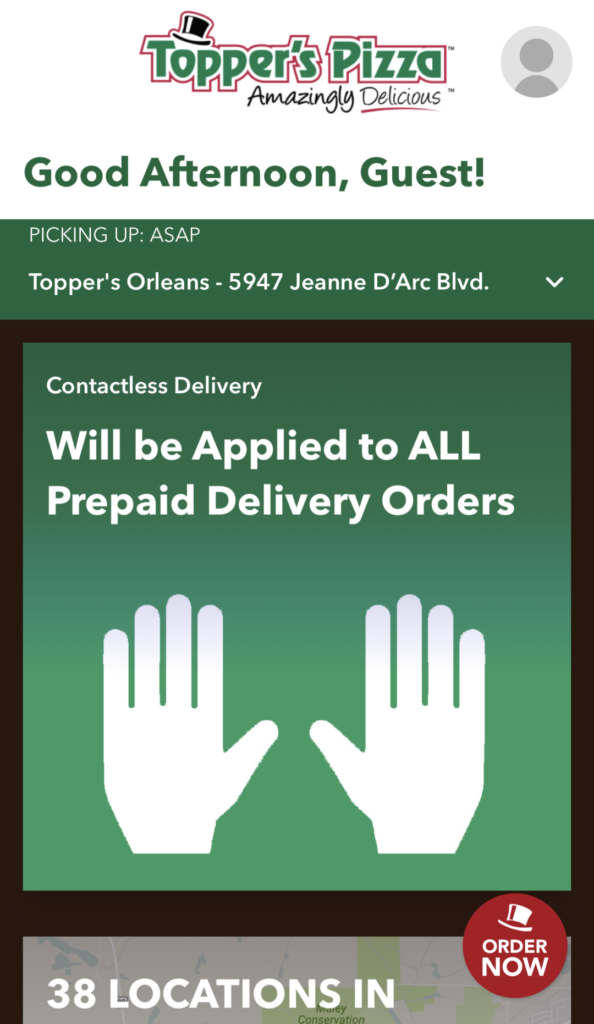 Image from the Topper's Pizza app
Curbside pickup
To limit the amount of customers congregating in their locations, many restaurants are offering curbside pickup. Ensuring your customers can be served efficiently while keeping both customers and staff safe are the main priorities. 
Communication is key to ensure your customers understand your curbside pickup protocol. If they're driving, where should they park? Do customers need to call a particular phone number when they arrive? How will they identify themselves and receive their order from you? There are many questions you need to ask yourself to ensure this process is seamless and safe.
Limited menu 
Including a limited menu on your online ordering platform is key to streamlining your operations. At a time when physical distancing is important in your kitchen, limiting your menu items may make order preparation easier. 
On your online ordering platform, include your best sellers. When choosing your limited menu, it's important to consider which of your menu items will travel the best if they're being delivered or will remain hot or cold (depending on the dish) if they're sitting in a takeout bag on the customer's way home. Customer feedback may help guide your menu choices and you can always change up your offering over time to give your customers something new to order. 

Image from the Opus Restaurant web ordering site
Health & safety
Restaurants Canada has put together a comprehensive guide that lists key health and safety guidelines upon restaurant reopening, including physical distancing and cleaning and sanitation. Following these guidelines will build both customer and employee confidence that your restaurant is operating with their safety as a top priority – something that will be key to building and maintaining a successful business in the post-COVID world. 
For takeout and delivery, some precautionary measures to keep top of mind are implementing tamper-resistant packaging and ensuring your delivery drivers are equipped with the appropriate sanitizing and personal protection equipment. 
Beyond the pandemic
While I've reviewed key aspects to takeout and delivery that are crucial for your restaurant during COVID-19, the pandemic has forced a comprehensive rethink of many standard operating procedures for restaurants, at least some of which will stay in place for the foreseeable future. 
Restaurant floor plans have been altered to better accommodate social distancing, such as modified pickup stations and, in some cases, lockable pickup boxes. Customers and staff need to navigate the plexiglass barriers that separate them and the floor stickers that guide where they should stand. 
These innovations and best practices will be critical to producing an experience customers and employees can be confident is safe and set the industry well along the road to recovery.